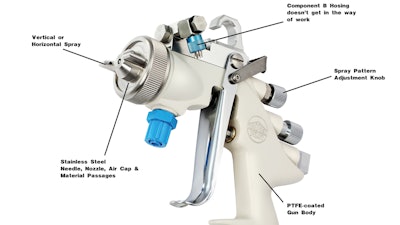 Walther Pilot
The PILOT Premium 2K is Walther Pilot's (Chesterfield, MI) new spray gun for two-component water-based adhesives. The Premium 2K features:
Stainless steel wetted parts and material passageways, which allows water-based and aggressive materials to be used without issue.
A PTFE-coated gun body to facilitate cleaning.
A Component B delivery system that makes sure that the secondary hose will not get in the way of work.
An activator (Component B) delivered by a secondary valve located on top of the spray gun.
The ability to process all commercially-available 2-component water-based adhesives for the foam manufacturing industry.
The two components are mixed in the spray jet.
The air cap design allows users to customize the width of the spray pattern with controls right on the spray gun.
The ability to position the air cap as desired so that vertical or horizontal spray patterns can be applied as needed.

For more information, visit http://www.waltherpilotna.com/.