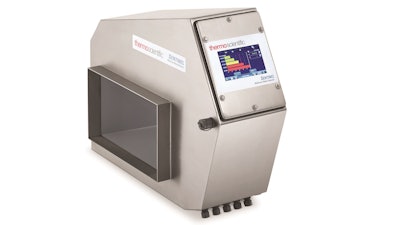 Thermo Fisher Scientific (Minneapolis, MN) offers their Sentinel 3000 multi-scan metal detector, with features that include:
The ability to mount on the frame of the Thermo Scientific VersaWeigh and Versa GP checkweighers.
The first multi-frequency metal detector specifically designed for metal detection-checkweighing combination systems in food production.
This combo results in a smaller footprint than typically required with two pieces of equipment.
By integrating the detector onto the checkweigher frame, the need for an external metal detector conveyor is eliminated.
The ability to select up to five frequencies from 50 to 1,000 kHz and scan through each frequency at a rapid rate.
www.thermofisher.com/sentinel3000