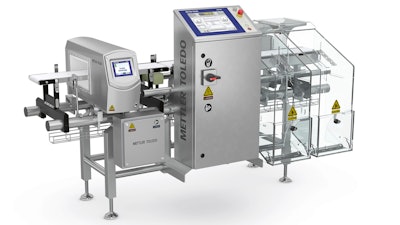 Mettler Toledo (Lutz, FL) offers their CM33 CombiChecker product inspection system that integrates two key functions into one solution. Features include:
Products can pass through a metal detector and then be weighed on a checkweigher.
Contaminated products and those outside of weight parameters are immediately rejected from the production line and routed to separate bins.
The system can be customized by selecting from a variety of conveyors, guide rails, transfer plates, dual locking reject bins and rejector types.
These mechanical features are complemented with choices from a collection of line integration, functional and operational, production monitoring and control, and communication options.
To help save time, the check­weigher and metal detector set up and configuration are done at the checkweigher control panel.
The dual function system can be adapted to the specific requirements of any food production line.