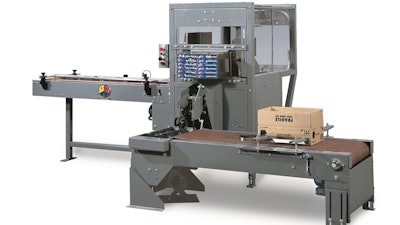 A-B-C Packaging Machine Corp. (Tarpon Springs, FL) offers their Model 19 packer for pet food manufacturers looking to automate their hand packing lines. Features include:
Automatic indexing of each product load before sliding it through stainless steel loading funnels into the shipping case.
Only one operator is needed to open cases and place them on the case packing funnel.
The machine occupies 75 square feet, including infeed and takeaway conveyors to help maximize plant floor space.
Can run at speeds of up to 15 cases per minute.
Powered infeed with product sensors, full guarding with see-through panels, easy access operator controls, and a product takeaway conveyor.
Can packs cartons, shrink-wrapped multipacks, rigid and semi-rigid containers into RSC, HSC and display cases.