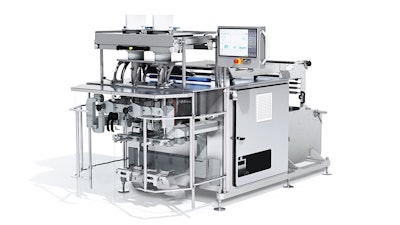 Rovema North America (Norcross, GA) has introduced their BVC 145 TwinTube form-fill-seal machine for the packaging of confectionary and snack products. The continuous motion unit:
Can produce up to 500 bags per minute.

Has a smaller footprint of 9.3' x 4.3' in handling bags from 5.7" to 8.6" long, with options to upgrade up to 12.5".

Following the infeed of packaging materials from a single film roll, the material is subsequently slit into two film webs capable of forming, filling and sealing.

Automatic edge control for repeatable format changeover.