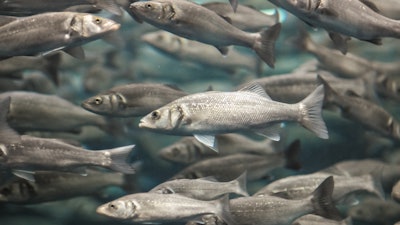 iStock
ORANGEBURG, S.C. - South Carolina is set to become a pioneer in sustainable seafood production, thanks to a new venture by an innovative aquaculture company called Pure Blue Fish (PBF). This Israeli innovative company has announced plans to start setting up its first U.S. facility in the fall of 2023, using its advanced zero-discharge recirculating aquaculture system (RAS) technology to grow nutritious, contaminant-free fish in a controlled environment.
PBF's unique RAS technology stems from over 25 years of research and development, first implemented in the company's fully operational farm in Israel and now being applied in the company's inaugural U.S. facility in South Carolina. This zero-discharge system utilizes specialized biological water treatment solutions to enable complete self-containment - the system can operate far from natural water sources without connecting to sewage systems or discharging fish waste back into nature. Some of the environmental and social benefits of RAS farming include reducing greenhouse gas emissions, water pollution, land use, and pressure on wild fish stocks.
Over the past decade, the company has been refining and scaling up this technology for commercial use, creating a highly efficient and cost-effective alternative to traditional or even current advanced aquaculture systems. This represents a new phase in RAS technology within the aquaculture industry.
PBF innovative RAS is the world's first proven commercial RAS that is 100% closed and disconnected from environmental effects.
The new facility will be built in phases starting late 2023 in Orangeburg County, SC. It will take about 12 months to complete the construction of the farm's facilities, which will gradually have an annual capacity of 4,600 tons of fish. PBF plans to harvest a variety of premium fish species, such as Kingfish, Croakers, and others, and gradually increase production over multiple grow cycles.
PBF chose South Carolina for its favorable business climate and strong state support for the project. The company aims to address the growing demand for sustainable seafood production as overfishing and pollution threaten wild fisheries. Indoor RAS technology can alleviate these pressures on oceans while providing a local source of healthy, contaminant-free fish.
South Carolina's central East Coast location provides PBF with easy access to major urban markets across the Southeastern U.S. within a six-hour drive, aligning with the company's distribution strategy to be located in close proximity to its customers.
The company plans to eventually open more facilities across the U.S., using the South Carolina farm as a model. PBF's RAS technology enables inland fish farming virtually anywhere, without relying on coastal locations or large bodies of freshwater.
PBF was founded by a team of aquaculture experts led by Chairman Igar Avrech, CEO Yuval Weiss, and CTO Ehud Brill. PBF's new operation could position South Carolina at the forefront of sustainable aquaculture innovation while creating local jobs and food security.