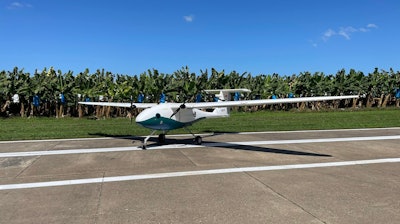 Pyka
Pyka, maker of autonomous electric aircraft for crop protection and cargo transport, and Dole plc, the global provider of fresh fruit and vegetable production, are pleased to announce the successful completion of the first trial phase with Pyka's Pelican Spray aircraft.
Upon receiving delivery of the aircraft in late 2022 in Dole Fresh Fruit's operation in Honduras, combined personnel from both companies began flight operations and spray efficacy testing at Dole's Isletas Farm. Pyka's autonomous electric aircraft performed with excellence, demonstrating ease of operation and effective crop protection.
As a next step, the use of Pelican Spray will be extended to larger areas of Dole's banana plantations and supplement Dole's existing fleet of agricultural spray planes. Subsequently, the partners will expand the Pelican Spray service to additional operations in Latin America. This autonomous electric aviation technology is a tremendous opportunity to optimize spray operations, reduce chemical usage through greater spray precision, minimize environmental impact, and contribute to Dole's sustainability goals.