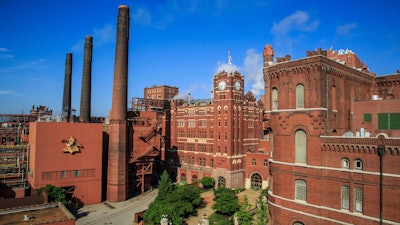 Anheuser-Busch
Anheuser-Busch yesterday announced a $50 million investment at its St. Louis brewery. The investment includes a new dedicated seltzer building, the first addition to the campus in over 15 years.
The investment is part of the brewer's announcement made at the beginning of 2021 to invest $1 billion over two years in the company's facilities to accelerate the nation's recovery and drive economic prosperity in communities across the U.S.
This project is in addition to the $100 million renovation of EverGrain's new U.S. headquarters, which is near completion, at the St. Louis campus.
The investment will enable St. Louis to continue to bolster its brewing and packaging capacity and capabilities to meet consumer demand.
Specific updates include the upgrading of one of the can lines and a dedicated seltzer building to house new systems and equipment for brewing products like Bud Light Seltzer and Michelob ULTRA Organic Seltzer.
Additionally, the brewery is being outfitted with advanced technical equipment that allows for the streamlined addition of flavors to the seltzer liquid.
The investment is part of a larger investment spanning 26 states that is expanding Anheuser-Busch's U.S. operations.
Anheuser-Busch owns and operates more than 120 facilities around the country and employs more than 19,000 people.
The beer industry in the U.S. creates more than 2 million jobs and generates more than $331 billion in economic activity each year.
Construction to upgrade the St. Louis brewery is currently underway and completion of the new building is expected to be in Spring 2022. Learn more about Anheuser-Busch's planned investments here .