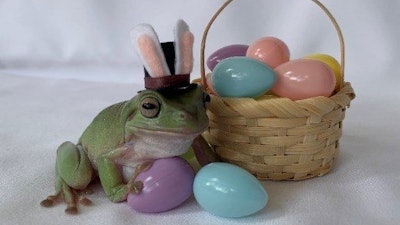 Hershey
This week, Hershey announced the winner of the third-annual Cadbury Bunny Tryouts. The 2021 Cadbury Bunny is Betty the Australian White's Tree Frog from Stuart, FL.
According to the company, Betty will be featured in the iconic Cadbury Clucking Bunny Commercial, set to air on TV nationwide this spring (see below).
The Hershey Company sells Cadbury products under license from Cadbury UK Ltd.
The tree frog is less than a year old and the contest's smallest winner to-date. Betty is also making history as the first amphibian and first female winner.
With over 12,000 entries nationwide, 2021 was a record year for the Cadbury Bunny Tryouts.
The 10 finalists included a frog, donkey, miniature horse and goat.
The tree frog's owner will receive a $5,000 cash prize. The Cadbury brand is also donating $15,000 to the The American Society for the Prevention of Cruelty to Animals (ASPCA).