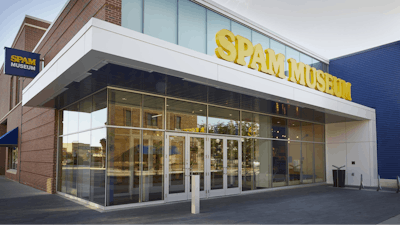 Hormel Foods
Yesterday, Hormel Foods announced the reopening of the SPAM Museum in Austin, Minneapolis. According to the company, the museum is one of the most visited attractions in Minnesota.
In addition to hosting in-person visits, the award-winning museum is offering live virtual tours for those who prefer to visit virtually.
Each year, the museum attracts fans from around the world from as far away as Australia, the United Kingdom, the Philippines and Hawaii.
In order to flatten the curve of cases of COVID-19, the state of Minnesota closed all museums to help stop the spread of the virus. Over that time, the museum's team of SPAMbassadors remained busy, helping to deliver more than 20,000 meals to seniors in the Austin community while the museum was closed.
According to Savile Lord, museum and community relations manager at Hormel Foods, robust cleaning and sanitation protocols are in place, as well as social distancing guidelines provided by the Minnesota Department of Health.
The team has also launched a live virtual tour option via Zoom.
"Instead of recording a virtual tour and having people play a video on their devices, we wanted to create a more personal experience and provide a customized tour for each group, like we would do if they were at the museum," said Lord.