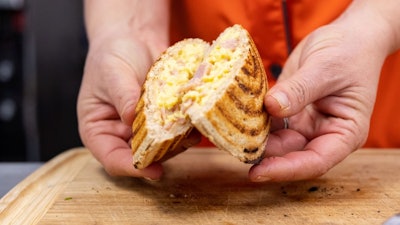 Jafflz
Natural Products Expo West is arguably one of the largest organic and natural products tradeshows. The event was abruptly cancelled this week, less than 24 hours before the convention's opening day. The move left thousands of exhibitors looking for answers.
"We began planning for this trade show last October. It is a huge financial commitment to be apart of a convention like Expo West, but normally worth the investment because of the opportunity for companies like ours to showcase products to the game changers and decision makers in the industry," said Meryl Van der Merwe, CEO of clean label toasted pocket company Jafflz. "I understand taking precautions, but the last-minute cancellation comes as a serious blow and major disappointment for a start-up like Jafflz."
The annual event boasts more than 3,500 exhibitors from 132 countries and an audience of over 85,000 food enthusiasts, industry professionals, food distributors and brokers.
In recent years, numerous small brands have been discovered by major industry players during the five-day event, which in part justifies the $9,500-$35,000 price tag for exhibitor space, let alone the cost of travel.
On Wednesday, some vendors took to Linkedin expressing hope that the organizers of such a high-profile, incredibly profitable event should at least offer refunds or other cost-recovery assistance to exhibitors and attendees, especially starts-ups and small businesses that have invested so much of their limited capital to participate. 
This morning New Hope Network, the organizers of Expo West (and East) issued a statement that said it plans to work with exhibitors on giving "credits" and support for future tradeshows, primarily discounted rates to Expo East later this year. A difficult proposition for the smaller brands and a logistical nightmare for vendors who have already spent thousands of dollars to attend the Anaheim event.
Although New Hope Network has done little to accommodate the 85,000 would-be attendees who traveled across the globe, or the 3,500 exhibitors who paid enormous fees for a space, thousands of dollars in hotel stays, flights and shipping, one vendor has gone out of their way to help.
The Fresh Market, one of the bigger brands that was scheduled to be at the expo, posted an open letter on Linkedin.
"I stand by my position that we need to do all we can to help support the smaller vendors who role the big dice and bring their hopes and dreams to this show," Dwight Richmond, Brand Management, The Fresh Market. Richmond invited brands to share their products and stories.
"We are so grateful for the opportunity the Fresh Market is giving vendors like us." Van der Merwe said. "The Fresh Market genuinely cares about the little guy and we appreciate their willingness to look at our brand."