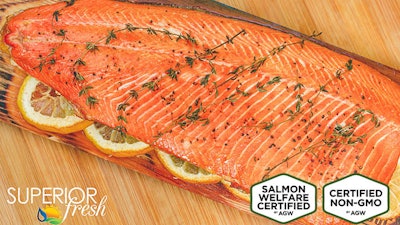 Superior Fresh
HIXTON, WI — Superior Fresh, an aquaponics facility specializing in organic leafy greens and Atlantic salmon, is the first company to offer salmon Certified Non-GMO by A Greener World. The company's flagship facility is the largest of its kind, practicing ecologically sound water conservation and native prairie restoration in a closed-loop, zero-discharge system.
Developed at the request of farmers and consumers seeking a meaningful non-GMO label, Certified Non-GMO by AGW guarantees food is produced without the use of genetically modified feed, supplements or ingredients, and comes from animals raised according to higher animal welfare standards using sustainable agriculture methods. On salmon, the Certified Non-GMO by AGW label includes A Greener World's Salmon Welfare Certified standards, incorporating the UK RSPCA's respected higher welfare salmon standards. Certified Non-GMO by AGW has meaningful prohibitions on GMO contamination (see comparison chart here for more details), and ensures that at no point in the growing, processing or manufacturing of the product will GMOs enter the system.
Superior Fresh's announcement follows FDA's recent controversial approval of genetically modified salmon for human consumption — despite significant opposition from consumer advocates, fishing groups, public health officials and native communities. As public concern for the labeling of GMOs (genetically modified organisms, also known as GE, or genetically engineered) continues to grow, the market for non-GMO products is surging 17 percent annually and expected to reach $1.1 billion by 2023, according to industry analyst Technavio.
"The fish production systems at Superior Fresh are designed and managed using technology that maintains clean water, giving our salmon the opportunity to live in a stress-free environment," said Superior Fresh president Brandon Gottsacker. "It is our duty to make sure our fish have great welfare, leading to the best quality fish for the consumer. In the absence of a USDA Organic standard for seafood, we chose to obtain the AGW certifications for Salmon Welfare and GMO-Free to assure our customers that we meet their standards."
A Greener World (AGW) identifies, audits, certifies and promotes practical, sustainable farming systems by supporting farmers and ranchers and informing consumers. AGW's growing family of certifications includes Certified Animal Welfare Approved by AGW, Certified Grassfed by AGW and Certified Non-GMO by AGW.