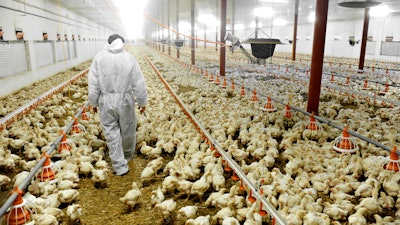 iStock
American international poultry producers had reason to rejoice Thursday with news of China lifting a nearly five-year ban on imports of poultry from the United States.
China's customs said it was lifting restrictions on poultry imports, effective immediately. The planned decision was originally announced in late October but wasn't published on China's customs website, which is recognized as the formal reestablishment of the poultry trade.
"The United States welcomes China's decision to finally lift its unwarranted ban on US poultry and poultry products. This is great news for both America's farmers and China's consumers," said US trade ambassador Robert Ambassador. "China is an important export market for America's poultry farmers, and we estimate they will now be able to export more than $1 billion worth of poultry and poultry products each year to China. Reopening China to US poultry will create new export opportunities for our poultry farmers and support thousands of workers employed by the US poultry industry."
China had banned all imports of US poultry and eggs since January 2015 due to an avian influenza outbreak in December 2014. The US Department of Agriculture said Thursday that the US has been free of the disease since August 2017, and that America exported more than $500 million worth of poultry products to China in 2013. That figure shrank to $390 million in 2014.
The US is the world's second-largest poultry exporter, with the USDA stating that 2018 global exports of poultry meat and products totaled $4.3 billion.
Secretary Perdue said, "After being shut out of the market for years, US poultry producers and exporters welcome the reopening of China's market to their products," US Secretary of Agriculture Sonny Perdue said Thursday in the USDA's statement. "America's producers are the most productive in the world and it is critical they be able to sell their bounty to consumers in other parts of the globe. We will continue our work to expand market access in important markets like China as well as other countries, to support our producers and US jobs."
Ending the ban on US poultry comes a week after the US Food Safety and Inspection Service amended the Federal Register to approve US imports of poultry products sourced from birds slaughtered in China.
President Donald Trump has stated a goal of doubling US agricultural sales to China, and eliminating non-tariff restrictions can go a long way towards achieving that. Thursday's news comes amid a 16-month trade war between the world's two largest economies that has involved each side placing tariffs upon billions of dollars worth of exchanged goods.
China currently faces a shortage of protein products following a swine flu epidemic that has killed millions of pigs in the country. With that shortfall of pork meat, Chinese imports of chicken have surged 47.6 percent from a year ago.