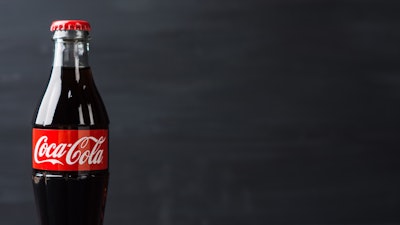 iStock
The North American IT firm behind Coca-Cola's bottling operations is reportedly expanding the company's use of blockchain for supply chain, partnering with SAP to leverage the technology among 70 bottling suppliers.
First reported by Business Insider, Coke One North America (CONA) said the blockchain pilot program with SAP will be expanded from two Coca-Cola bottling manufacturers to 70. Those 70 suppliers make and deliver approximately 160,000 orders a day from Coca-Cola, and at that scale, having visibility across the entire supply chain can be a major challenge for CONA. That's where the company hopes blockchain technology will help it increase efficiencies for its bottlers and lower overall costs.
"There are a number of transactions that are cross-companies and multiparty that are inefficient," a CONA senior manager told Business Insider. "They go through intermediaries; they are very slow. And we felt that we could improve this and save some money."
The project aims to improve distribution for all parties involved, as all bottling suppliers are able to access a permissioned blockchain that contains each suppliers' orders, capabilities and requirements. Doing this allows the network to quickly provide options for filling shortfalls for any particular suppliers' pending orders. Business Insider cited CONA saying the technology could reduce order reconciliation from weeks to just days.
"What we achieved here with blockchain is creating a document flow across the supply chain," SAP's head of the SAP Innovation Center Network told Business Insider.
Yahoo Finance noted that Coca-Cola's biggest rival, PepsiCo, ran a blockchain trial in May that the company said increased efficiency by 28 percent.