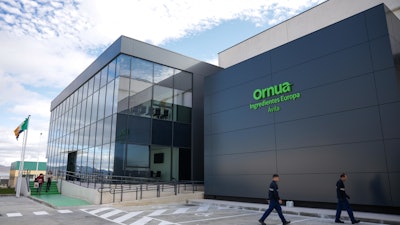 Ornua
Ornua, Ireland's largest exporter of Irish dairy products, celebrated on Tuesday the official opening of its new, $33 million, state-of-the-art cheese production facility in Ávila, Spain. The new facility has been built on the former Ornua cheese manufacturing site, opening two years to the day since that site was sadly destroyed by a devastating fire. The 35,000-ton mozzarella and pizza cheese facility, which has the potential to increase to 70,000-tons in the future, greatly enhances Ornua's pizza cheese making capacity and capability securing its position as a world-leading pizza cheese supplier. Ornua supplies enough cheese for over 100 million pizzas each year.
The reopening of the Ávila facility also marked the creation of Ornua Ingredients Europe, which brings Ornua's Spanish and UK Ingredients businesses together. The new division is a supplier of high quality and nutritious cheese and dairy powder ingredients supplying over 75,000-tons of added value ingredients to food manufacturing, QSR and pizza customers.
The rebuild of the facility, which employs over 120 people, included a major expansion and processing technology upgrade. As a result, the Ávila facility will reinforce Ornua's position as a major supplier of mozzarella and pizza cheese blends for both European and global pizza chains and play a major role in Ornua's growth strategy of diversifying its product portfolio and building scale.
At the forefront of the latest cheese processing technology, the Ávila site features a R&D Centre of Excellence with a pilot plant and innovation kitchen dedicated to developing the next generation of pizza cheese and cheese ingredients for the $130 billion global pizza market. Its technology provides a wide selection mozzarella and mozzarella-based cheese blends which deliver great flavor, an excellent melted texture, superb coverage and stretch and an outstanding cooked appearance. It also features innovative Individual Quick-Freezing capability, an in-line cooling system and the latest technology to produce pizza cheese ropes for the growing 'stuffed crust' sector of the market.
Speaking at the opening, John Jordan, Ornua CEO said, "Today's opening of our new cheese facility here in Ávila is fully in line with Ornua's growth strategy of investing in world-class strategic production facilities to secure long term returns for Irish dairy farmers. This major investment will play a key role in enhancing our cheese ingredients capacity and capabilities. It will reinforce our position as a leading, large scale supplier of high-quality dairy ingredients to many leading Spanish, European and global food manufacturing and food service customers. Our new Avila R&D Centre of Excellence becomes the 10th innovation centre in our international network, which will ensure that Ornua has the capability to support our customers at the forefront of the rapidly changing dairy ingredients market."
Commenting on the opening of the facility, Irish Ambassador to Spain, Sile Maguire said, "The new Ornua facility in Ávila reflects Irish and Spanish commitment to excellence and innovation in the food industry, and to our shared confidence in this vital sector."
Led by newly appointed Managing Director Joan Bombardo, Ornua Ingredients Europe incorporates Ávila and Ornua's UK Ingredients businesses, giving it a turnover in excess of $332 million; four well-invested processing and NPD facilities and 600 experienced and committed staff. Headquartered at its Nantwich UK facility, Ornua Ingredients Europe will have the scale and resources, combined with the agility and flexibility, to identify and meet the ever-changing needs of its customers and their consumers.