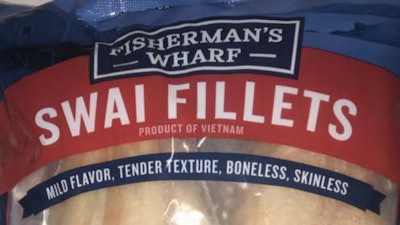 Bell, California-based H&T Seafood, Inc. is recalling an undetermined amount of siluriformes products (a variety of catfish) that were packed and distributed without the benefit of USDA inspection and used the mark of inspection without authorization. The U.S. Department of Agriculture's Food Safety and Inspection Service made the announcement.
The one-pounds bags of frozen fillets branded as Fisherman's Wharf Swai Fillets were shipped to distribution centers and retail locations in Florida, Georgia, Louisiana and South Carolina.
The problem was discovered by FSIS personnel during surveillance at a retail store. There have been no confirmed reports of adverse reactions due to consumption of these products.