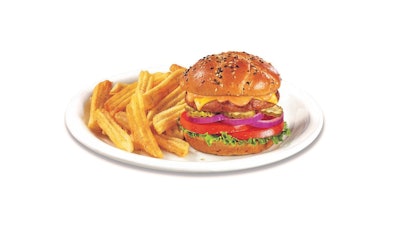 In response to their customer's growing interest in plant-based dining and flexitarian diets, Denny's recently announced a partnership with Beyond Meat, which will include the launch of Denny's Beyond Burger. Available at all Los Angeles area Denny's locations beginning today, the new Denny's Beyond Burger features a 100 percent plant-based Beyond Burger patty topped with sliced tomatoes and onions, lettuce, pickles, American cheese and All-American sauce on a multigrain bun.
To prove that this is no "trick," this Halloween night between 4:00 pm – 7:00 pm, Denny's will celebrate the introduction of this plant-based offering by "treating" guests to a free Beyond Burger (with a purchase of any beverage) at any of its Los Angeles area restaurants while supplies last. While available exclusively in the Los Angeles market currently, Denny's will roll out the new Denny's Beyond Burger nationwide in 2020.
The Beyond Burger launch marks the first plant-based protein option for Denny's.