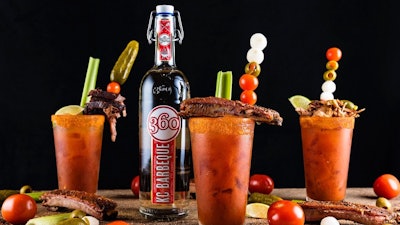 Kansas City, Missouri-based 360 Vodka recently unveiled their latest flavor focused on honoring its Kansas City roots - 360 KC Barbeque Flavored Vodka.
Kansas City Barbeque has a heritage that dates back to the early 1900s, when the "Father of Kansas City Barbeque" Henry Perry first sold slow-smoked meats wrapped in newspaper for twenty-five cents in the city's Garment District, and opened the city's first barbeque restaurant in an old trolley barn. Barbeque-flavored vodka is a first in a category that has produced just about every flavor that can be imagined.
360 Vodka positions its products as a premium brand from McCormick Distilling Co. in Weston, Missouri. Founded in 1856 and home to the historic Holladay Distillery, McCormick Distilling Co. is the oldest business in the Kansas City area. The brand recently announced a landmark local partnership in becoming the Official Vodka of the Kansas City Chiefs.