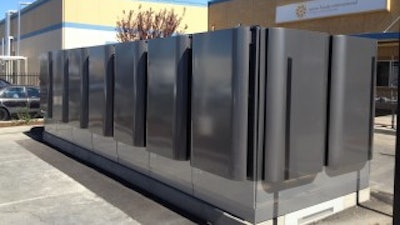 Ramar Foods
PITTSBURG, CA - Founded in 1969, Ramar Foods wanted to bring the flavors of the Philippines into US households. For the last 50 years, Ramar has been committed to manufacturing frozen Filipino food products.
Last week, Ramar celebrated its 50th anniversary. The third-generation owners also celebrated a commitment to green energy, as the company powers its operation with fuel cells from Bloom Energy.
​The partnership began in 2011. Ramar Foods used Bloom Energy Servers to provide primary power to one of its manufacturing plants. In July 2019, Bloom delivered its latest-generation fuel cell technology, providing the same 200 kilowatts of clean power to Ramar's facilities while improving efficiency and operating costs.
Fuel cells take natural gas and generate clean energy without combustion, leading to higher energy output with fewer emissions. The new and improved servers will help Ramar maintain its commitment to the environment while investing any savings back into its people.
Since 2013, Ramar Foods has prevented nearly one million pounds of carbon dioxide emissions with the help of Bloom Energy.
With the new upgraded system, Ramar Foods is expected to decrease its carbon footprint from energy use by an additional 12 percent.
With the upgraded servers, Ramar expects to offset 330,000 lbs of CO2 annually, the equivalent of planting 2,475 trees each year.
Bloom's upgraded servers also use 40 percent less space than the previous model.
"In today's world, clean energy is not only a smart investment, but truly necessary for the next generation. Everything is for the future," said PJ Quesada, VP of Operations in Ramar Foods.
Ramar adopts the practice of "Walang Sayang," a Filipino phrase that translates to "no waste," and working together with Bloom Energy brings them a long way toward that goal, while still passionately putting out the Filipino frozen food products that people love.