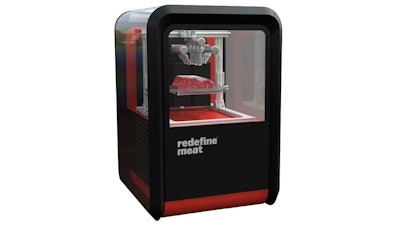 Redefine Meat has announced today the completion of a $6 million seed round led by CPT Capital, Israel-based Hanaco Ventures and Germany's largest poultry company, The PHW Group. Redefine Meat will use the investment to finalize the development of its alternative-meat 3D printer, which will be released in 2020.
Redefine Meat's animal-free meat is comprised of natural and sustainable ingredients that deliver the same appearance, texture and flavor of animal meat. Redefine Meat was founded in 2018 with the goal of "offering a superior meat production technology that delivers products that are indistinguishable from high quality animal meat."
The company is developing a solution that combines a proprietary semi-industrial 3D digital printing platform, a 3D meat modeling system and plant-based food formulations. The solution delivers a new category of complex matrix "meat" that is cost effective and scalable for steaks, roasts and stews. The technology will also enable meat distributors and retailers to design the characteristics of their meat to cater for seasonality, changing demands and consumers preferences with "printed meat" that is 100 percent predictable and replicable. Redefine Meat products have a 95 percent smaller environmental impact than animal meat and contain no cholesterol.
"Our goal is not just to develop a new food product, but to introduce a new technology for developing, producing and scaling alt-meat products. We have already successfully printed great products for multiple foodie events, and over the coming 12 months, we will take the technology to the next level," said Eshchar Ben-Shitrit, Co-Founder and CEO at Redefine Meat.