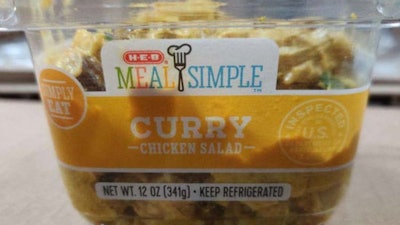 San Antonio, Texas-based Bakkavor Foods USA, Inc. is recalling approximately 1,913 pounds of ready-to-eat chicken salad products due to misbranding and undeclared allergens. The U.S. Department of Agriculture's Food Safety and Inspection Service made the announcement. The product contains pecans, a known allergen, which is not declared on the product label.
The RTE chicken salad products are labeled as Curry Chicken Salad products but contain Tarragon Chicken Salad products. The items were produced on August 20 sold in 12-ounce square plastic containers in grocery stores throughout Texas.
The problem was discovered by the company during a review of production records. There have been no confirmed reports of adverse reactions due to consumption of these products.