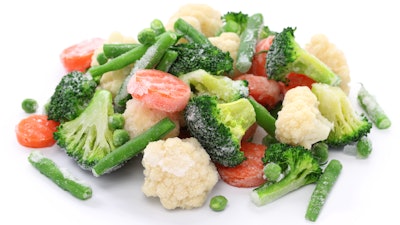 ResearchandMarkets.com recently unveiled a report forecasting the global frozen vegetables market, which was valued at $26.4 billion in 2017, is expected to garner reach $38.8 billion by 2025. This equates to a compounded annual growth rate of five percent during this period. Factors contributing to this growth include:
An increase in disposable income and in the living standards of consumers around the globe.
Hectic lifestyles and an increase in need for convenience food.
Growth of the retail network in emerging economies, such as India, China and Brazil.
Easy availability of corn for processing has it continuing to be the leading frozen vegetable available.
The popularity of broccoli is driving a CAGR of 7.1 percent for the product, stemming from a rise in fitness-based trends among consumers worldwide.
The food service industry is expected to witness a moderate growth rate of 4.7 percent during the forecast period, due to an increase in the number of fast food outlets offering more vegetables.
One challenge facing frozen vegetable providers is the continued perception of quality of the vegetables used, and their overall state in going through the freezing process. For more information about this report visit https://www.researchandmarkets.com/r/zd5csc