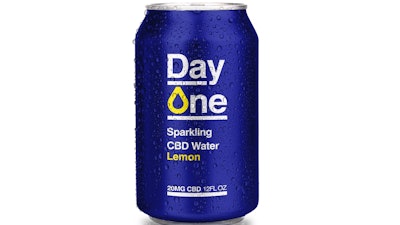 Natural Hemp Company is pleased to introduce its first brand, Day One CBD Sparkling Water. The flavored sparkling water will be available for purchase at a variety of retail locations nationwide and via www.dayonecbd.com.
"Day One is a perfectly balanced sparkling water that is infused with 20mg of Broad-Spectrum CBD with a splash of lemon fruit juice. We only use all-natural ingredients and our waters have zero calories, zero carbs, and no added sweeteners," says Chris Clifford, CEO of Natural Hemp Company, the parent company of Day One.
While CBD is effective in inhalable and edible forms, the company feels their CBD-infused water is much easier for the body to absorb, making for a more effective, hydrating, and faster-acting experience. Day One is expected to be sold nationwide in select 7-Elevens, Natural Foods stores and big-box retailers. It is currently available in lemon, with additional flavors set for roll-out later this year.