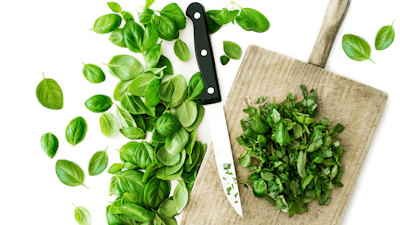 The U.S. Food and Drug Administration, along with the Centers for Disease Control and Prevention and state and local partners, are investigating a multistate outbreak of Cyclospora illnesses potentially linked to fresh basil exported by Siga Logistics de RL de CV, which is located in Morelos, Mexico.
Although the investigation is ongoing, CDC's analysis of epidemiologic information indicates that contaminated fresh basil is the likely cause of the illnesses. FDA's traceback investigation indicates that the fresh basil available at points of sale where consumers became ill was exported to the United States by Siga Logistics de RL de CV l.
The FDA has requested a voluntary recall and the firm has agreed. The agency will continue to investigate the cause and source of the outbreak, as well as the distribution of products. So far 132 illnesses have been reported in 11 states. There have also been four hospitalizations.
The Cyclospora cayetanensis is a parasite that is so small it can only be seen under a microscope. When people eat food or drink water that's contaminated with Cyclospora, they can get an intestinal illness called cyclosporiasis.