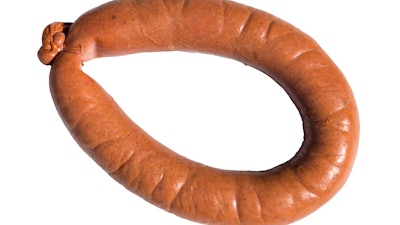 Weimar, Texas-based J Bar B Foods is recalling approximately 51,188 pounds of ready-to-eat cheddar smoked sausage products due to misbranding and undeclared allergens, the U.S. Department of Agriculture's Food Safety and Inspection Service announced. The product contains milk, a known allergen, which is not declared on the product label.
The 14-ounce, ready-to-eat "Cheddar Smoked Sausage" items were incorrectly labeled as "Original Smoked Sausage." They were produced on January 19, 2019 and shipped to retail locations in Texas.
The problem was discovered when a retail store notified the company of an incorrect label. The establishment investigated and determined that the incorrect label was applied to the product. There have been no confirmed reports of adverse reactions due to consumption of these products.