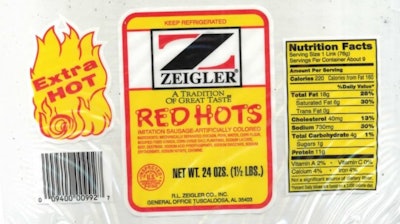 Selma, Alabama-based R. L. Zeigler Co., Inc. is recalling approximately 11,664 pounds of ready-to-eat poultry and meat sausage products that may be contaminated with extraneous materials, specifically metal. The announcement was made by the U.S. Department of Agriculture's Food Safety and Inspection Service.
The 24-ounce packages of Red Hot chicken and pork sausage items were produced on November 29, 2018. These items were shipped to retail locations nationwide. The problem was discovered after the firm received consumer complaints on December 13 and 27, 2018.
There have been no confirmed reports of adverse reactions due to consumption of these products.