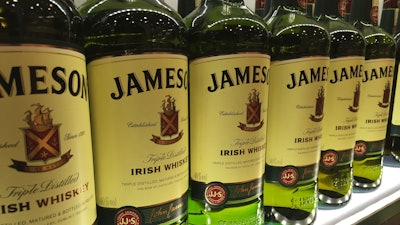 (BUSINESS WIRE) The global Irish whiskey market is expected to post a compounded annual growth rate of over seven percent during 2018 - 2022, according to market research from Technavio. A key factor driving growth in the market is new investment from international providers of whiskey that are expanding to include an Irish whiskey offering.
Currently, four of the world's top 10 spirits marketers have invested in Irish whiskey. Pernod Ricard is the leading vendor offering Jameson, Powers, and Paddy. Beam Suntory markets Cooley and Kilbeggan brands of Irish whiskey. Also, in October 2017, William Grant & Sons unveiled a new $15 million facility for Tullamore Dew with an annual capacity of 1.5 million cases, which is nearly double the brand's current volume.
Technavio highlights the increased marketing and advertising campaigns as one of the key emerging trends in the global Irish whiskey market. Marketing and advertising campaigns by key players in the market is rising to increase product visibility and consumer awareness about their brands. Other factors, like the increasing awareness about Irish whiskey, the increasing demand for craft whiskey, and whiskey-based tourism are expected to contribute largely to the growth of the overall market.
The EMEA (Europe, Middle East and Africa) region led the market in 2017 with a market share of over 44 percent, followed by the Americas and APAC (Asia Pacific) respectively. However, during the forecast period, the APAC region is expected to register the highest incremental growth, followed by the Americas.