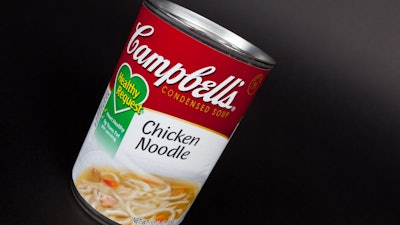 CAMDEN, N.J. (AP) — Shares in Campbell Soup rose nearly five percent in midday trading after the company reported earnings and revenue that easily beat Wall Street expectations.
Good news has been scarce of late for Campbell, which has been struggling for a couple of years with declining soup and juice sales as consumers seek healthier, less processed food. Campbell has also been concerned about recent U.S. tariff battles that it expects will raise the costs on aluminum, a major expense for the canned soup maker.
The Camden, New Jersey-based company is in the early stages of trimming its portfolio to focus on its core U.S. businesses, soup and snacks. Campbell has launched the process to sell Campbell International and Campbell Fresh - which it announced in August - and the company said it has received strong interest from potential buyers. The company said it will use the proceeds to pay down debt.
The maker of canned soup, Pepperidge Farm cookies and V8 juice on Tuesday reported fiscal first-quarter earnings of $194 million on revenue of $2.69 billion, a 25 percent increase over the same period last year.
On a per-share basis, Campbell had profit of 64 cents. Earnings, adjusted for non-recurring costs, were 79 cents per share, beating Wall Street expectations. The average estimate of six analysts surveyed by Zacks Investment Research was for earnings of 69 cents per share.