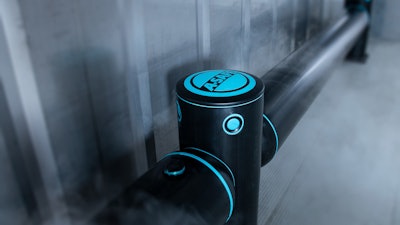 A-Safe Inc. has launched a new range of protective barrier developed by world-class polymer scientists to deliver maximum performance at sub- zero temperatures as low as -22°F.
The Baltimore, MD-based manufacturer of guarding products for warehouses, distribution centers and other facilities is primarily targeting the range at the food storage industry. Created from a unique blend of polymers, Memaplex Sub-Zero is designed to withstand impacts without cracking or fragmenting. It is food-safe, wipe clean and self-colored for maximum hygiene and ease of care.
Like other products in the range, it is made from A-Safe's Memaplex material, the company's patented blend of eight materials and rubber additives that, practically, absorbs impact without incurring damage. Additionally, it is purpose-designed for use in frozen food storage facilities and other challenging, sub-zero environments (it can be used up to +32°F).
A limited number of products are available upon October's launch, including RackGuards, Standard Bollards, ForkGuard, Height Restrictors, Pedestrian Barriers, Single Traffic Barriers and Single Traffic+ Barriers. All are identifiable by the blue accenting of the product to identify it as a 'cold storage' system. Barlow said A-Safe will be the first polymer barrier manufacturer to offer a "special polymer blend specifically designed for applications at sub-zero temperatures."
The product — designed with the highest levels of protection to pedestrians, assets and infrastructure in mind — incorporates the patented A-Safe 3Phase Coupling System, which works in three sequential stages to cushion impact forces and dissipate energy through the barrier and away from fixings. This prevents damage and preserves floors, reducing the costs and downtime associated with repairs and maintenance.
A-Safe will offer the new product directly to end-users and to the reseller/distributor marketplace.