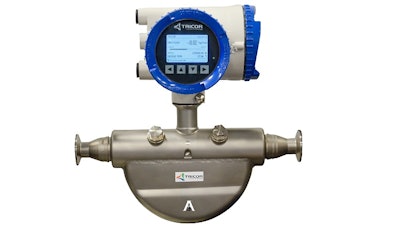 AW-Lake Company (Oak Creek, Wisconsin) now offers a more sanitary design for its TRICOR PRO Plus Coriolis Mass Flow Meters with a 3-A Sanitary Certification for use in the food and beverage industry. Additional features include:
An incorporated sensor with a DSP transmitter in a compact configuration.
Self-draining and capable of multivariable measurement including flow, density and temperature.
A data update rate with a 100 Hz signal transmission.

A high oscillating driver frequency provides greater immunity to process noise, more reliable measurement and higher resolution.

Available in three flow meter sizes including ½", 1" and 2"

.
https://tricorflow.com/pro-plus-series-coriolis-mass-flow-meter