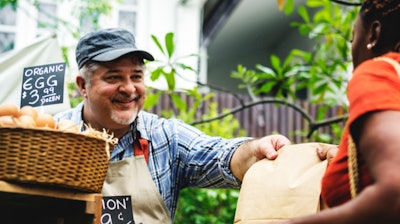 Today customers expect their food to be sustainably sourced, 'cleanly' labeled and free of artificial ingredients. As a result, food and beverage manufacturers that can demonstrate they are health and environmentally conscious stand to benefit from these new customer preferences—providing they can adapt their operations and put progressive technologies in place to do business.
The biggest players in the process manufacturing industry are trying to get more health conscious and sustainable to meet the latest consumer demands—but they're already on the back foot. The International Food and Beverage Alliance (IFBA), made up of 12 leading food and non-alcoholic beverage companies, has declared its intention to "innovate and optimize the composition of members' products" in an attempt to meet the World Health Organization's (WHO) aim to eliminate industrially produced trans-fat (iTFA) from the global food supply by 2023.
Clean packaging initiatives are now essential to demonstrate sustainability, as younger customer bases make increasingly environmentally influenced decisions when buying food and drink. In fact, 66 percent of consumers are happy to pay more for products from brands committed to environmentally friendly practices, according to the Nielsen Global Corporate Sustainability Report.
Industry leaders are slowly starting to change their ways in response to this:
But such organizations adapting to market changes are often hindered by equally large, monolithic business software which works to the advantage of smaller vendors.
Take the Initiative
The time is now to make investments in new products, processes and technology needed to steal market share from companies that have dominated shelf space and slotting allowances for decades. But multiple and rapidly shifting product lines require manufacturing routing and packaging processes that are agile and flexible as new products are added and as demand for product in one package versus another changes from one day to the next.
For companies to compete against industry giants they must master three key areas and be able to rely on supporting software to help them change the landscape of the food industry in their favor.
1. Take advantage of transformational tech.
Technologies such as the internet of things (IoT), artificial intelligence (AI) and powerful operational intelligence (OI) tools are already driving benefits in the industry and show impressive upsides when used to solve entrenched business problems. One of the most immediate and compelling ways these cutting-edge technologies can drive instant results for food and beverage manufacturers is in the planning and scheduling division. Fresh, perishable ingredients and daily planning mean there are momentous benefits to be gained by applying intelligent algorithms to the precise timing of production.
A good place to start may be determining how much of a perishable ingredient to have on hand—based not on historical sales figures but on current and leading indicators such as current sales pipeline, weather conditions and other data from inside and outside the company. It is then possible to make data-driven and predictive decisions about purchasing or how much of a precursor product to make before a day's orders to meet daily demand. Combined with mobile geolocation technology and vendor portals, IoT can also improve receiving, ensuring that it dovetails with production for more rapid manufacturing.
While strong, integrated ERP is key for the success of an international contactor, food and beverage manufacturers will benefit from adopting OI software—a enterprise management tool that sits on top of these systems. OI ties the underlying data in ERP and data from various data sources into an all-encompassing business map that helps monitor and manage business operations even as multiple variables change. In addition, OI software can unite ERP products run by disparate businesses engaged in collaboration. This may be something as straightforward as shared sourcing between a brewery and a pasta company which pool their raw materials.
2. Be agile.
Launching new and innovative products necessitates new processes, recipes and routings. The schedule for a day's manufacturing must be flexible enough to allow a manufacturer to ship the day they receive the order, breaking up batches into several packaging and product configurations according to emerging demand.
This is unfortunately where manufacturers often discover their core ERP software solutions lack any kind of production scheduling engine, and why even the largest food companies, which may be using a solution such as SAP for finance, are not using it on manufacturing or operational levels. Products that pass through the manufacturing process are instead managed through disconnected spreadsheets, but this won't work in a fast-paced manufacturing environment—processes must be streamlined and tightly integrated with the rest of the enterprise.
When a food and beverage manufacturer runs SAP for financials on a corporate level, they might decide to implement a more flexible, agile solution for the operational level of the business or in specific divisions through a "two-tier" ERP approach.
Take one IFS customer, a division of a $3 billion food and beverage manufacturer, as an example. The parent company runs SAP for financials. A division of the company which manufactures branded and private label soft drink syrups needs to manage vastly different processes—its single ERP implementation would have necessitated costly and lengthy customization to manage these new advanced planning processes. After opting for a two-tier approach, the division was running smoothly on IFS Applications with no modifications to the code while addressing their advanced license plating and other traceability requirements.
3. Get the most out of CSR.
Corporate social responsibility (CSR) was previously a luxury in the food and beverage industry. But manufacturers are now expected to document the sustainable origins of specific ingredients such as palm oil, which is associated with loss of biodiverse rain forests in Asia, Africa and Central America. This has filtered down to retailers asking for certain percentages of RPSO-certified palm oil in products they sell.
There is high demand from retailers for "clean labeling", who are in turn being reactive to the requests of consumers who are increasingly favoring more natural products not just for their sustainability and health gains, but for more authentic flavor and taste profiles. From retail to restaurants, the ability to tell the consumer a "farm to fork" journey about what they consume can justify selling at a premium price. Today, more than ever, traceability doesn't just apply to compliance and risk management—it should always be tracked and displayed by supporting software.
IFS customer Gaia Herbs provides its customers with a "MeetYourHerbs®" web portal, which offers customers visibility into the supply chain and product origins for the company's line of nutraceuticals and nutritional supplements. From grower to manufacturing batch to machine operator, consumers can see where their specific batch of product originated and who was involved in the process along the way.
Strike while the iron's hot in the current food & beverage climate The most forward-thinking manufacturers with products that target health and sustainably focused customers can prosper in the current food and beverage landscape. Those who utilize the latest technologies, understand the importance of having agile business operations and recognize the need to demonstrate social responsibility will test the resolve of the largest players in the industry, whose inflexible enterprise software mean they can't adapt as easily to meet evolving consumer demands.
The key is for challengers to react quickly to give consumers what they want and ensue they don't become one of the industry laggards.