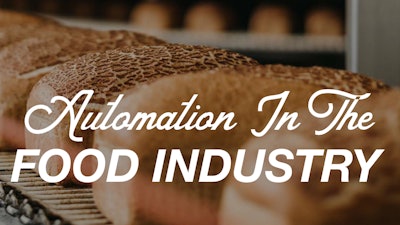 Feeding the world is a big job, and it's one that the food industry understandably takes very seriously. Just as a chef wouldn't use a teaspoon to stir a pot of soup, food manufacturers need to use the right tools to ensure the most efficient processes and best results.
As demand increases and efficiency becomes even more important, it's no wonder the food industry seeks more ways to integrate automation into its operations, which is why the food automation industry is expected to grow to more than $29 billion by 2027. Within the next few years, it's believed that nearly three-fourths of food services will be automated.
It's easy to see why automation has become such an essential element of the food industry. Without it, companies would be at greater risk of inferior products, outbreaks of foodborne illnesses and high operating costs.
Among the many reasons automation has been embraced so wholeheartedly is that it provides companies with greater flexibility and adaptability. Thanks to the speed of automated processes, businesses will be better positioned to adjust to changes throughout the marketplace without much of a delay. As a result, manufacturers can pivot faster, changing their product lineups in response to emerging trends.
Automating operations also enhances the quality of the foods produced because it reduces the potential for human error and offers greater accuracy for quality control. Inspection systems can scan large quantities of ingredients, identify impurities, and remove them with greater speed and efficacy than human eyes and hands ever could, which leads to enhanced brand integrity and customer satisfaction.
Another important factor to consider is how automated systems improve safety within the manufacturing process. Keeping human beings as far away from spinning blades, hot ovens and hazardous chemicals as possible is key to ensuring a safe working environment. Robotic systems eliminate these risks, taking on the dirtiest and most dangerous jobs to allocate human resources to other areas.
Of course, no discussion of automation would be complete without including the significant cost savings it offers. Today's autonomous mobile robots can work around the clock, keeping factories, warehouses and distribution centers as self-sufficiently as possible. Taking repetitive, strenuous activities off human workers' shoulders with robotic arms also reduces the amount of manual labor required, further lowering costs.
The Future of Food Production
From autonomous robotic forklifts loading trucks to industrial gummy candy conveyors used in production, automated systems are the norm in today's food industry. The many benefits these solutions provide ensure they will continue playing a crucial role in operations from manufacturing to distribution. As technology advances and artificial intelligence becomes more refined, we can expect that to hold for the foreseeable future.

Buffy Hagerman is Marketing Communications Manager at Key Technology, a leading food processing equipment manufacturer. Hagerman is responsible for marketing initiatives that build awareness of the company's high-performance digital sorting, conveying and process automation solutions worldwide.