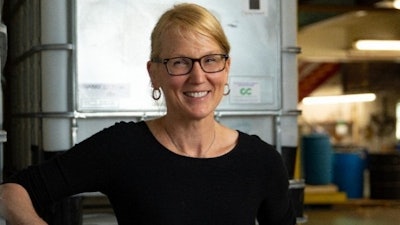 Hubbard-Hall (Waterbury, CT) has announced its certification as a Woman Owned Small Business by the Women's Business Enterprise National Council (WBENC). Chairman, CEO, President, and 6th-generation owner Molly Kellogg leads the $55 million specialty chemical producer and distributor headquartered in Waterbury, CT. She became the first female CEO in the company's 172-year history in 2014 and in 2019 succeeded her father, Charles T. Kellogg, as Chairman of the Board.
Founded as Apothecaries Hall in downtown Waterbury in 1849, Hubbard-Hall has transformed from a local fertilizer store to a leading supplier of chemistry for surface treatment with distribution throughout the US, with an international presence in Mexico, Asia and Europe. Hubbard-Hall provides chemistry and expertise to metal finishing manufacturers in a wide range of industries including automotive, aerospace, medical devices, military, semiconductor, and hardware & tooling. The company is particularly strong in cleaning, with an ambition to be the US leader in aluminum cleaning.
Like her predecessors, Kellogg takes a long-term view of the business with an eye to passing it on the next generation. Under her leadership, the company has been named a "Top Workplace" in Connecticut 4 years in a row.