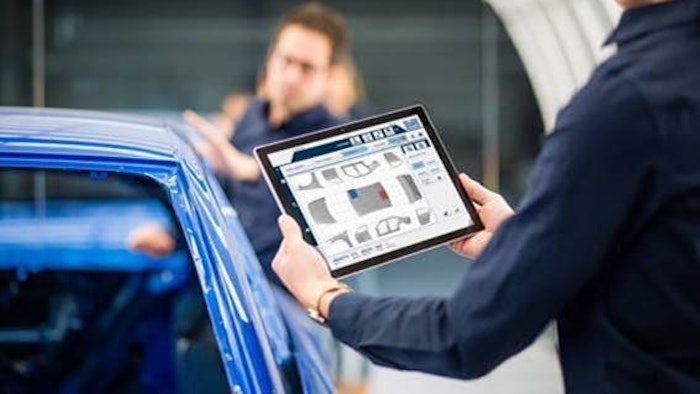 Despite all the restrictions caused by the coronavirus pandemic, it was a precision landing; Dürr handed over one of the biggest paint shops in China to SAIC Volkswagen right on schedule. The new plant in Anting is a factory of superlatives. The production capacity is twice that of a standard paint shop at 120 bodies per hour, and behind the intelligent production is software and artificial intelligence on a hitherto unknown scale.
A smart painting line records around 3,500 digital data points for every individual body alone. On top of this, sensors supply many gigabytes of data in process values for temperature, pressure, and humidity, for one example. This information is the raw material for increasing the overall equipment effectiveness (OEE) of a paint shop. The new SAIC Volkswagen joint venture (SVW) plant near Shanghai, where various electric models and conventionally powered vehicles are produced, is a prime example from real life. Dürr supplied all of the plant engineering and the most comprehensive portfolio yet of its proprietary DXQ software products for the highly digitized factory.
SVW uses nearly all modules from the feature-rich DXQcontrol software solution for higher-level plant control. It enables the life cycle of each body to be tracked from beginning to end. This starts with receipt of a production order, whereby the order information is translated into concrete production steps. In addition to order data management, the DXQbusiness.intelligence module from the DXQcontrol product family is also used in a new form. For the first time, consumption data such as energy, water, or air usage can be evaluated historically over long periods. This lays the foundation for sustainable plant operation.