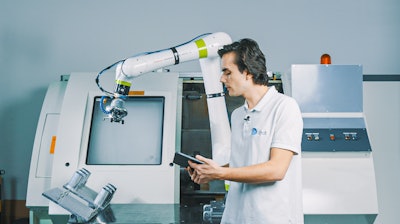 OnRobot
Persistent labor shortages across U.S. manufacturing have created a semi-permanent crisis for the entire sector. The 2023 Career Advancement in Manufacturing Report, published in April, found that 82% of manufacturing companies are experiencing a labor shortage. Many companies are turning to collaborative robots (cobots) and lightweight industrial robot systems to combat workforce problems and grow their business.
Collaborative automation, characterized by affordability, fast ROI and small footprint, is the fastest-growing segment of the industrial robot market. Traditional industrial robots, which require deep technical knowledge to deploy and maintain, have been too costly and complex for small-to-medium enterprises (SMEs). Collaborative automation changes all this, offering user-friendly interfaces and simplified programming techniques.
But the labor shortage is also impacting robotics integration firms. As these companies struggle to find people to fill engineering and other technical positions, many robot integration specialists can barely keep up with demand.
A new 'zero programming' approach to collaborative automation deployments can provide a way beyond this impasse for integrators and end users. And it's the culmination of a decade-long trend towards improved usability in the cobot domain.
For example, some cobots offer hand-guiding features and have done so for some time. These features enable users to program the system by guiding the robot and end-effector into position by hand and setting various points along the way. This intuitive programming method saves time and money by reducing project complexity, and it's a definite usability improvement versus traditional robot programming, but some technical knowledge is still required to maximize performance.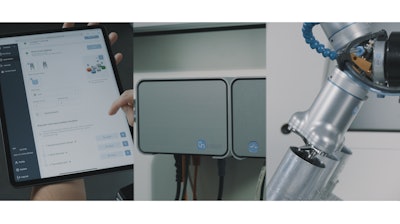 Another usability enhancement came from cross-platform systems that enable streamlined deployments across multiple collaborative and lightweight industrial robot brands. This so-called 'one system, zero complexity' approach supports easy programming across a wide range of robots and a range of collaborative application domains from screw driving to pick and place operations.
Meanwhile, zero programming approaches have also facilitated relatively quick collaborative automation deployments by simplifying complex programming techniques using visual modeling and drag-and-drop user interfaces. Little programming knowledge is required to operate these systems, especially if the application is an extremely simple one. If, on the other hand, the application is complex, some programming knowledge is required to ensure a safe and successful deployment –which is enough to discourage SMEs that are averse to solutions that require any level of programming.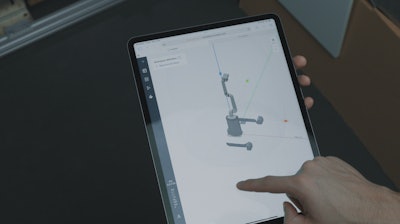 The latest zero programming technology heralds a new era of fully automated robot deployment and programming –a long-term industry goal for the automation sector. This technology automates the entire process of building, running, monitoring and re-deploying robots on manufacturing applications.
By abstracting complex robotics programming details, it allows users to define cell boundaries and obstacles while the software generates an optimized program.
This technology handles complex programming details like path planning, program logic, signal exchange, and event handling, allowing the user or integrator to simply define the cell boundaries and obstacles.
For instance, the zero programming approach can reduce the deployment of a collaborative palletizing application from 40 hours to just 4 hours. Similarly, a CNC machine tending application deployment that usually takes 36 hours can now be performed in six hours, which means massive time and cost savings for end users while at the same time empowering integrators to keep up with demand by deploying more automation in a shorter time and fewer expert resources needed.
Manufacturers not only get their automation deployed faster than before, but the technology also enables them to maintain and update their applications in-house via the same zero programming interface, which has a positive democratizing effect on robotics adoption, especially for SMEs.
For robot integrators, zero programming fully opens the largely untapped SME market segment and significant business opportunity. The ability to focus less on installing and programming and more on other projects can also facilitate growth in the global automation sector overall, with positive effects for both business and society.