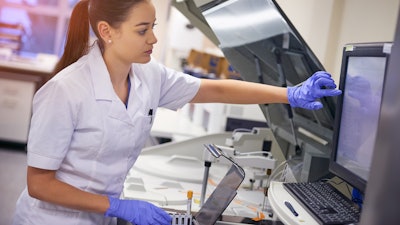 Digi-Key
Since the introduction of tablets and smartphones in our personal lives, workers have become much more comfortable using touchscreens in their professional lives. HMI capabilities have continued to evolve as capacitive and multi-touch resistive touchscreens, among other features, have provided new options for industrial automation applications.
In this exclusive interview with Joey Mulqueen and Eric Halvorson, industrial automation experts at Digi-Key Electronics, a distributor of industrial automation and controls, we discuss when you should consider upgrading your HMI, the features that should be top priority, and the impact the COVID-19 pandemic will have on future HMI usage, maintenance and design.
IEN: Are HMI purchasing decisions driven more by cost or capabilities?
Digi-Key Electronics: HMI has evolved greatly with the evolution of capacitive/multi-touch resistive touch screens. In the past, HMI typically involved a screen such as a CRT and push buttons to interact with the menus on the screen.
Now, as we see capacitive and multi-touch resistive screens, workers can change screens using interactive menus, and are now even able to program logic controllers using drop and drag icons.
Purchasing decisions will always be driven by cost, but with more capabilities innovating the market, customers will now have more options to choose from.
IEN: When should you consider upgrading your HMI? What specs/features should be top priority?
Digi-Key: A good time to evaluate the HMI would be whenever modifications or improvements are made to the machine. The first step is to consider other products being used in conjunction with the HMI. For instance, are you using a Crouzet Logic Controller? If so, you will want to use a Crouzet Touchscreen.
Many manufacturers make products to be used with one another, and different software and protocols make it difficult, if not impossible, to pair with products from another manufacturer.
Next, you will want to decide on whether you want a touchscreen or an operator interface with a keypad.
What kind of environment will the HMI be operating in? Do you need IP 67, or will IP 43 suffice? After you have narrowed down your selections from there, you will want to consider power requirements, memory, and expansion capacity. This should narrow your search down considerably. You may also look at special features such as Bluetooth or WIFI capabilities.
IEN: How has user comfort and experience using screens changed the way workers interact with HMIs?
Digi-Key: Since the onset of tablets and smartphones, workers have become much more comfortable with touchscreens. Using gestures, drag and drop, and 3D touch, workers can easily manipulate a touchscreen with very little training. This makes the use of touchscreens in industrial settings much more appealing.
Because it's a touchscreen, buttons can be moved, highlighted, and provide workers with a much better visual of the machine's performance and process.
IEN: How can HMIs make operations more efficient?
Digi-Key: HMI's can provide a much better visual of plant operations and provide the operator with critical information keeping them informed of other cells that work in conjunction with their own.
Workers can monitor sensor readings, tank levels, and shaft speeds from the safety of the console. It can then use those readings to change the display and alert the operator to recommended courses of action based on conditions.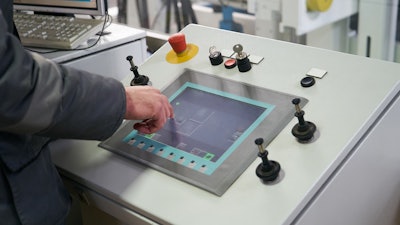 IEN: How do HMIs make facilities safer?
Digi-Key: They allow all information and controls to be displayed in one space. This minimizes the risk of exposing the operator to potentially hazardous locations and circumstances, such as material handling equipment, robots, bio and chemical hazards.
Specific Information on malfunctions can now be displayed as well. Instead of relying on a row of indicators to alert the operator to a malfunction, the HMI can describe the nature of the malfunction, provide an exact location, and provide detailed information to correct the malfunction.
IEN: What long-term impact will the COVID-19 pandemic have on future HMI usage, maintenance and design?
Digi-Key: We could see an uptick in washdown rated HMI, particularly in the medical and food and beverage industries. We will also see a rise in the amount of fully encased, ruggedized, and chemically resistant HMI, as well as disposable screen protectors to allow for thorough cleaning with chemical agents without risking damage to the HMI.
The HMIs will need to be designed to work with medical equipment/PPE such as examination gloves and biohazard suits.
With regards to COVID-19, there is a need for design changes to HMI with specific use for doctors when monitoring patients afflicted with the virus. Currently, HMI's are slow to production and are not well suited for mass production.
With ventilators and ICU beds being produced by multiple manufacturers such as Ford, GM, Medtronic, etc. building them at a breakneck pace, there may be a need for an HMI with a more universal design that can be easily mass produced to meet current and future demands.