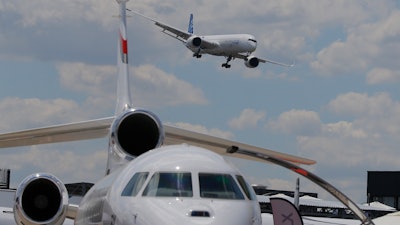 AP Photo/Michel Euler
The chief salesman for Airbus says his company already has the technology to fly passenger planes without pilots at all — and is working on winning over regulators and travelers to the idea. Christian Scherer also said in an interview with The Associated Press that Airbus hopes to be selling hybrid or electric passenger jets by around 2035.
While the company is still far from ready to churn out battery-operated jumbo jets, Scherer said Airbus already has "the technology for autonomous flying" and for planes flown by just one pilot. He told The Associated Press: "When can we introduce it in large commercial aircraft? That is a matter we are discussing with regulators and customers, but technology-wise, we don't see a hurdle."
Safety is an obvious concern — and that's an issue that is on many minds after two deadly crashes of the Boeing 737 Max jet. Scherer said the crashes "highlighted and underlined the need for absolute, uncompromising safety in this industry, whether from Airbus, Boeing or any other plane."
Boeing is seeing lackluster contracts at the Paris Air Show so far as it tries to win back trust from customers after the crashes of two 737 Max jets.The company announced a deal Monday to provide services and parts for British Airways via its owner International Airlines Group, and another to provide technology to help United Airlines set pilot schedules. Boeing also struck a deal for freighter jets with leasing company GECAS.
Asked whether the Max crashes affected its trust in Boeing, British Airways Chief Financial Officer Steve Gunning said, "We're confident that Boeing will solve those issues and will get these issues behind them." His airline did not announce any new plane purchases from Boeing.
In contrast, rival Airbus announced a string of plane sales on the first day of the Paris Air Show worth several billion dollars. Boeing's CEO said the company came to the air show with a tone of humility after the Lion Air and Ethiopian Airlines crashes, which killed 346 people.