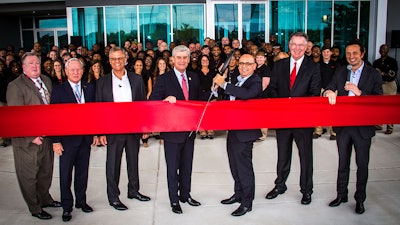 ABB
ABB has opened a new advanced manufacturing facility in Senatobia, Mississippi to produce electrical components for the U.S. market. The 85,000-square-foot facility will manufacture Tmax XT molded case circuit breakers (MCCBs) and the ABB Emax 2 air circuit breaker, which were previously made overseas.
These devices provide protection via a combination of trip mechanisms for thermal overloads, short circuits and ground faults. This facility will also produce a wide range of protection and control products.
The plant will create 200 new jobs by the third year of operation, with another 100 jobs expected to be added by the fifth year.
Local and state officials attended the grand opening event, including Mississippi Governor Phil Bryant, and from ABB's Electrification Products division, managing director of the Protection and Connection business, Giampiero Frisio and executive vice president for North America, Franklin Sullivan. The event was also attended by ABB customers from around the country.
"We will be manufacturing products here specifically for the U.S. market using advanced manufacturing methods," said Giampiero Frisio, ABB's managing director of the Protection and Connection business unit. "This investment was made in the surrounding Memphis area to have our production facility close to our U.S. headquarters."
In the last ten years, ABB has invested $10 billion in the U.S. and is the only manufacturer of MCCBs in America.
With an on-site engineering team, the Senatobia facility has the capability to design and produce custom enclosed control assemblies consisting of the complete line of ABB electrification protection and control products. The products to be produced in the new Senatobia facility are used on a variety of industrial, commercial and municipal electrical applications. Some examples are data centers, solar and wind renewable energy, manufacturing plants, food processing facilities, and water and wastewater facilities.
ABB, with headquarters in Zurich, Switzerland, has selected Memphis as the U.S. ABB Electrification Products Division headquarters. Memphis also is the global headquarters for the Electrification Products Installation Products Business Unit, which includes Thomas & Betts, acquired by ABB in 2012.
The Mississippi Development Authority and the Tate County Economic Development Foundation provided assistance in support of the project for infrastructure needs and workforce training.