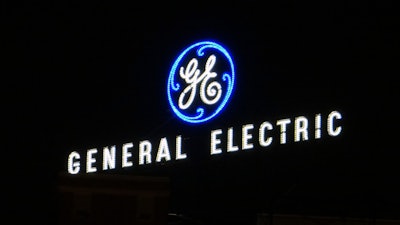 PROVIDENCE, R.I. (AP) — General Electric is reaching out to Rhode Island universities with plans to recruit 100 people for a new digital technology office in Providence.
GE Chief Financial Officer Jeffrey Bornstein said the company intends to tap into the region's university talent and aims to create "a real ecosystem around that type of work that attracts other companies, other entrepreneurs."
Bornstein and other GE executives visited the State House on Monday to detail the company's vision with the state's political leaders and college presidents. The company is seeking about $5.65 million in tax breaks and other business incentives from the state.
Bornstein credited Democratic Gov. Gina Raimondo for persuading GE to open a branch office in the state. "You have a governor who is absolutely, unequivocally relentless," he said, later joking that she called him about 75 times.
Raimondo and members of the state's congressional delegation had been in talks with GE since the company began looking a year ago to relocate from suburban Fairfield, Connecticut. It eventually settled on Massachusetts, where it will employ about 800 workers at a new Boston headquarters.
But GE executives said the Providence branch, an hour's train ride from Boston, will be a hub for developing advances in supercomputing, as well as internal software used by GE workers.
It will be part of the company's California-based GE Digital division, which was formed last fall and aims to help transform the 124-year-old giant into a software leader. Apps created by the future GE workers in Rhode Island could range from software for employee travel expenses to something for an offshore oil platform technician to diagnose a problem, said GE Chief Technology Officer Chris Drumgoole.
GE said it will relocate a few managers from elsewhere, but nearly all of the Rhode Island jobs will be new positions. The average salary of the jobs will be more than $100,000, with many of them requiring significant engineering expertise, Drumgoole said.
"With GE here, others will follow," said Democratic U.S. Sen. Jack Reed. "When GE makes a decision to go someplace it will be looked at closely (and) copied."
Drumgoole said the company has already reached out to the University of Rhode Island, with plans to talk to the Rhode Island School of Design, Brown University and alternative programs that train people for tech careers.
"We're really excited. Our students have already expressed interest," said Katharine Flynn, executive director of URI's business engagement center.