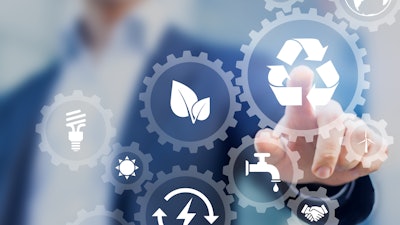 As profoundly as digital transformation is reshaping how manufacturers operate, it may well be only the opening act for another transformation that could forever alter how industries and even entire economies function.
Digital transformation is about companies moving to a connected, data-intelligent, Industry 4.0 business approach. This next transformation is about a fundamental shift to sustainable, cyclical approaches to resource production and consumption. And according to the research firm Gartner, the shift will be rapid. "By 2029, the circular economy will be the only economy, replacing wasteful linear economies," Gartner declared in 2019.
Closing the Circularity Gap
Gartner defines the Circular Economy as "an economic model that separates the ability to achieve economic growth from the consumption of natural resources. Circular economic business models encourage continuous reuse of materials to minimize waste and the demand for additional natural resource consumption." The Ellen MacArthur Foundation describes the circular approach as "designing out waste and pollution, keeping products and materials in use, and regenerating natural systems."
For manufacturers in a broad range of industries, that approach is gaining traction. From raw materials mining and processing to manufacturers of packaging and end products such as automobiles, companies are committing to move away from the traditional take-make-use-dispose route, to a future built on the zero-waste principles of reuse, remanufacture and recycle.
That includes relatively new companies like five-year-old TemperPack, which manufactures plant-based cold-chain packaging as an alternative to Styrofoam for shipping perishable goods — flowers, health-care items like temperature-sensitive pharmaceuticals, and food, such as prepared meals. TemperPack makes packaging mostly from biodegradable vegetable starch and paper. It's certified curbside recyclable, produced from a renewable feedstock in a low-emitting process, cost-competitive and performs as well as Styrofoam, according to company co-founder James McGoff
Essentially, the Richmond, Va., company has "woven sustainability into the DNA of the product," he says. And now, its products are catching on, fueling 40 percent annual growth for the company.
In the metals industry, Norsk Hydro is focused on developing aluminium alloys with a low carbon footprint. It now offers two types of low-carbon aluminium through its Circal and Reduxa brands. Circal products are made with a minimum of 75 percent recycled, post-consumer scrap aluminium, while Reduxa products are produced using lower-carbon processes that, according to the company, reduce the overall carbon footprint per kg of aluminium to four kg, less than a quarter of the global average.
Circular approaches also are gaining a foothold in the automotive business, where Encory, a partnership involving BMW and the recycling company ALBA is working to re-engineer the logistics of vehicle scrappage by creating a system for extracting materials and parts/components from cars to remanufacture them before they are junked. Meanwhile, electric batteries in Renault's New ZOE electric vehicle are finding a second life in stationary storage installations for renewably-generated electricity to power buildings. The French automaker also is sourcing textile products made from old seat belts, fabric scraps and plastic bottles for use in the New ZOE's seat covers, dashboard trim, gear lever console and door fittings.
Initiatives like these remain the exception rather than the rule, however, illustrating just how entrenched the linear approach is in the manufacturing mainstream. Today just 8.6 percent of the minerals, fossil fuels, metals and biomass that enter the global economy each year are re-used, according to the Circularity Gap Report 2020 from the Circle Economy. As annual global material consumption was surpassing 100 billion tons for the first time in 2020, the world's reuse or "circularity" rate actually dropped from 9.1 percent the previous two years.
Building a Business Case
In releasing its Circular Economy Action Plan earlier in 2020, the European Commission warned that global consumption of materials like biomass, fossil fuels, metals and minerals is expected to double in the next 40 years, while annual waste generation is projected to increase 70 percent by 2050.
That waste carries substantial disposal, compliance, health and environmental costs that are borne by individual companies, their customers, the communities of which they are part, the public at large, and, of course, the ecosystems it impacts. The more evident those costs become to companies, consumers and policy-makers, the greater the impetus — and the pressure — for manufacturers to pursue circular opportunities.
Much of that impetus is coming from consumers and shareholders. More consumers are basing purchasing decisions as much on a product's sustainable attributes (recycled content, lower carbon footprint, etc.) as on other factors like price and product quality. In a 2019 global survey of nearly 30,000 consumers, Accenture Strategy found that 62 percent of customers "want companies to take a stand on current and broadly relevant issues like sustainability."
Digital transformation is making many of today's circular ventures viable, giving them the cohesiveness, common data language and connectivity they need to succeed.
A shared digital platform can be the conduit that enables information and insight to flow seamlessly, in real time, among the various constituencies of a circular initiative. Having a strong, reliable information set is critical to developing a common knowledge base for meaningful collaboration, enabling decisions to be made based on a single version of the truth. Within that platform, advanced modeling/simulation can enable participants to quickly model and design products with specific priorities like recyclability, lower carbon footprint, durability and reuse in mind.
As part of the move to a circular model, linear supply chains will need to be re-engineered into ecosystems. Advanced modeling and analytics can show companies how to most efficiently and profitably source, produce, trace, recycle and recirculate materials and goods. They can enable companies to evaluate and re-engineer logistics and material flow streams, taking into account location and value up and downstream. Ultimately, this level of visibility provides a manufacturer with a deeper understanding of the actual cost and value of all the inputs involved in the production and delivery of the end material.
With track-and-trace capabilities, meanwhile, a company can ascertain the provenance and other relevant information about a material or product, following it along each step of its journey through the circular process. The right data, managed well, can underpin a traceability system to verify authenticity, safety, certification and sustainability, from raw material, through production, to finished goods. That data is valuable not only internally but externally, for regulatory compliance and brand differentiation.
As metrics on recycled content and carbon footprint become more visible and transparent in the marketplace, as they are with consumer products packaged in plastic, buyers can begin to make more of the sustainability-minded purchasing decisions that ultimately will drive the Circular Economy into the industrial mainstream.
Jennifer Scholze is Global Lead, Mill Products and Mining, SAP Industries marketing and communications. She's based in Boston, Mass.