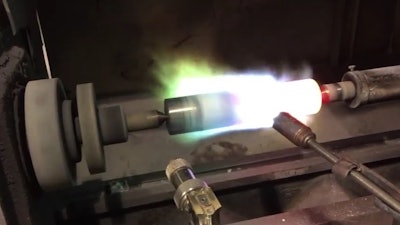 Triangle Pump Components
Extremely versatile, plunger pumps — also called well service pumps, high-pressure pumps, or high-viscosity pumps — can be used in a wide range of high-pressure applications. Below, we'll outline the basics of plungers before delving into the details of the manufacturing process.
What is a Plunger?
A plunger is a cylindrical component used to push fluid, gas, or other media through a positive displacement pump by sliding back and forth through a chamber. This reciprocating motion — rather than a circular rotary motion — enables the pump to handle high pressures, viscous fluids, and even media containing solids.
The plunger's back and forth/up and down motion causes fluid or media in the cavity to contract and expand, redirecting the media through the pump. The plunger first moves upward or outward to create suction, drawing the media up into the chamber. It then moves back downward or inward to build pressure, forcing the media to be discharged in a different direction.
How Are Plungers Manufactured?
The manufacturing process for these plungers includes five distinct phases: preheating, coating, fusing, grinding, and finishing (view video below).
Preheating: To prime the stainless steel plunger barrel for coating, the plunger is mounted onto a coating lathe, where the spray gun preheats it with a flame. The entire barrel is heated to over 400°F, with exact heating time varying depending on the plunger's diameter and length.
Coating: Once the plunger has reached an optimal temperature, a hopper containing a mixture of tungsten carbide coating powder is mounted on the spray gun. The gun applies a layer of this mixture to the plunger barrel's surface while maintaining the preheat temperature.
Fusing: When the whole barrel has been coated, the powder hopper is removed from the spray gun and the plunger barrel is heated to over 1300 °F, fusing most commonly tungsten carbide powder mixture to the barrel's metal surface. The plunger is then removed from the lathe altogether to cool to room temperature.
Grinding: After cooling, the plunger's diameter is measured to ensure a sufficient and uniform coating on the surface. If measurements are satisfactory, the coated, semi-finished plunger is mounted onto a computer-controlled grinder to smooth its surface to a predetermined RMS finish.
Finishing: Once grinding is complete, the plunger is measured to verify smoothness, concentricity, and uniformity. If these features meet the desired specifications, it is moved to a CNC lathe for final touches.
Sam Kelton is the general manager of Triangle Pump Components, which has been manufacturing pump products for nearly a century. He is available to answer questions about plungers and other pump components, whether it's how to install a plunger or how to employ proper maintenance techniques to keep it running for years. Click here to submit your question.