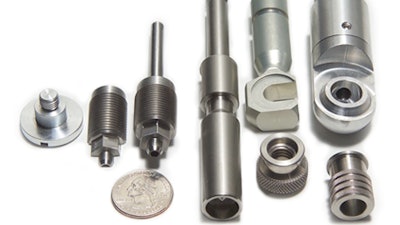 Ardel Engineering
When in need of custom metal and plastic parts, there is a multitude of options from casting to forming to machining; however, there's no denying that one process can deliver the tightest tolerances and most precise components, and that's Swiss turning.
Swiss turning, otherwise known as Swiss screw machining, is a high-speed, high-accuracy turning technique that provides customers with complete turnkey machining solutions.
Unlike other CNC lathes or turning equipment, Swiss screw machines hold the workpiece closer to the cutting tool and use multiple axis configurations to carry out several operations at the same time.
The versatility of this equipment allows manufacturers to churn out high-volume, complex part orders while cutting down on costs and unnecessary processes. If you're looking to streamline your production operations or give yourself a competitive advantage in your industry, it's worth investigating the Swiss machine shops in your area.
Here are the top five reasons you should check out a Swiss precision machining shop over other precision machining companies.
Unmatched precision — CNC Swiss screw machining is best for large volumes of small, high-precision parts, as a sliding headstock effectively holds the workpiece closer to the cutting tool. The workpiece is mounted on a rotary slide supported by a guide bushing, which reduces bending and deflection at the cutting surface (often experienced when turning on a lathe) and allows for more precise cuts and tighter tolerances — even at rapid speeds.
Materials — When geared up with the proper tooling, Swiss turning can precision machine even the toughest materials — from plastics and hard metals to nearly any engineering grade bar stock material — up to 32 mm (1.25984 inches) in diameter.
Cost — Thanks to its superior efficiency, Swiss screw machining is a very cost-effective operation. Sophisticated tooling enables a streamlined machining process, continuously fed through a bar feeder, allowing for the production of complex geometries at high speeds. The dynamic functionality of these machines eliminates the need for costly secondary finishing services and, since most of these operations can be run without a human operator, also reduces labor costs.
Industry applications — Fixed headstock machines are not delicate enough to achieve the small diameters and tight tolerances required by many critical-use-application parts. The sliding headstock and guide bushing of Swiss turning, however, allow enhanced precision for industry-specific manufacturing such as aerospace machining and medical machining for providing small, slender parts.
No secondary operations needed — The versatility of Swiss screw machining often ends up eliminating the need for additional finishing services. Right out of the box, Swiss CNC lathe machines can perform techniques such as grinding, milling, deburring, and lapping — providing many customers with an all-in-one solution. These added capabilities not only allow manufacturers to save on the costs associated with each service but also on valuable production time.
Ardel Engineering is a full-service precision machining and turning shop offering Swiss screw machining capabilities for aerospace, medical, and commercial industries.
To learn about important considerations to keep in mind when optimizing your manufacturing processes for complex machined parts, download the free eBook, "Cost Effective Design Tips for Machining Complex Parts."