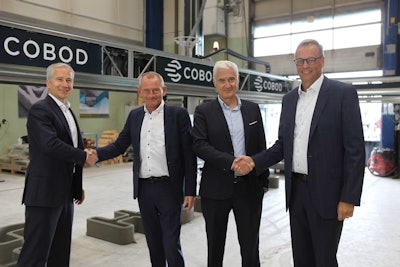 COBOD
Early last month, Holcim announced an investment in COBOD International, a leader in 3D construction printing, to advance world-class 3D printing materials, robotics and automation. Building on its collaboration with COBOD since 2019, the investment will further leverage Holcim's range of proprietary ink TectorPrint, which is tailored for 3D printing.
Holcim and COBOD have successfully collaborated on a range of innovative building projects, from 3D-printed windmill tower bases with GE, to the world's first 3D-printed school in Malawi and Africa's largest 3D-printed affordable housing project in Kenya.
Holcim's TectorPrint is an innovative 3D printing ink range that can be tailored for complex applications from residential buildings to infrastructure. According to the company, 3D printing can reduce material use by up to 50% to build more with less with no compromise in performance.