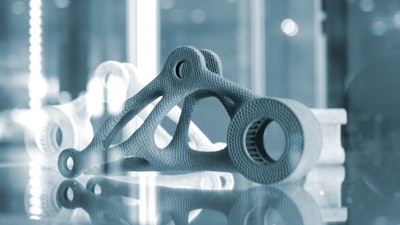 iStock
Athena 3D Manufacturing last week promoted its additive manufacturing services at Dassault Systèmes' 3DEXPERIENCE World & Forum 2023 in Nashville, Tennessee.
Athena, a parts provider for engineering firms and manufacturing companies, can make parts in quantities from one up to 10,000 through multi jet fusion (MJF), stereolithography (SLA) and fused deposition modeling (FDM).
Established in 2019 and based in the Phoenix area, Athena serves customers in the automotive EV market, including Nikola, Tesla and Lucid.
Director of Manufacturing Taylor Moore said the company also provides services for aerospace and medical customers. The medical work involves orthotics and prosthetics.
"If you have a custom orthotic from a couple of different companies, chances are the plastic insert comes from us," Moore said.
Athena's inception occurred just before the COVID-19 pandemic, but Moore said the company used the time to mature, which involved earning ISO 9001:2015 certification.
"[The certification] allows us to have traceability and give our customers the comfort of knowing that we have a quality management system to give them the best part possible," Moore said.
Athena's entire manufacturing services include 3D printing, post processing, 3D scanning and design for additive manufacturing (DFAM), CNC machining, cast urethane and injection molding.