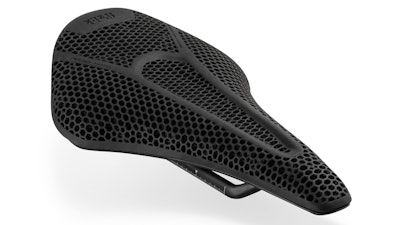 Fizik
Fizik announced the Argo Adaptive, a 3D printed saddle that utilizes Carbon Digital Light Synthesis 3D printed "digital-padding." The new saddle expands the Argo family and joins the Antares Versus Evo within the Fizik Adaptive range.
Fizik's extensive saddle pressure mapping data works in conjunction with the Carbon design process and Design Engine Pro to create a seamlessly engineered "zonal cushioning."
The unique 3D-printed lattice structure is tuned for different loading patterns across the whole saddle. The result is a shape optimized for varying postures and sit bone positions.
The Argo saddle offers a versatile short-nosed design. This encourages stability and relieves pressure on soft tissue which adds to increased power output and allows riders to become more aerodynamic.
The Argo Adaptive puts the rider in a planted position, as opposed to a traditional saddle shape that encourages riders to shift their position frequently.
In combination with Carbon's digitally produced padding, the Argo Adaptive features tailored zonal cushioning, reduced peak pressure for long lasting comfort and a shape that offers stability and weight distribution.
The saddle will be available in two models, the Fizik Argo Adaptive R1 with carbon rails and the Fizik Argo Adaptive R3 with K:ium alloy rails, at $299 and $259, respectively, to consumers at the end of April.