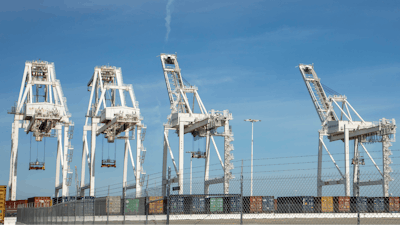 iStock
A collection of 16 industry groups, including leading rail, trucking and port associations, is urging the Biden administration to ramp up its efforts to establish a new federal office charged with overseeing the nation's freight policies.
In a letter to U.S. Transportation Secretary Pete Buttigieg dated Aug. 30, the groups noted that an Office of Multimodal Freight Infrastructure and Policy had yet to be finalized nearly two years after it was mandated under a sweeping infrastructure spending law.
Organizers wrote that the office would fulfill a coordinator role similar to the one played by a White House "Supply Chain Disruptions" task force formed during the supply chain crisis of 2021. Although those pandemic-era backlogs have eased, the groups wrote, a nationwide leader is needed to coordinate between state governments and other stakeholders amid other looming challenges, including geopolitical concerns and the trend of manufacturers bringing production closer to the U.S.
The office would also help form long-term plans for multi-modal freight networks; in its absence, the groups wrote, that work is taking place on an "ad hoc basis" that impacts the effectiveness and efficiency of the plans.
The letter said that despite its vital importance, the White House has not announced the office's structure, leadership or policymaking role. They called on Buttigieg to designate an acting leader and formally establish the office within the DOT.
"With all the activity and attention around supply chains and logistics, this coordinating role is more important than ever," the associations wrote.
Groups signing the letter included the American Association of Port Authorities, the Association of American Railroads, the American Trucking Associations, the National Association of Manufacturers and the U.S. Chamber of Commerce.