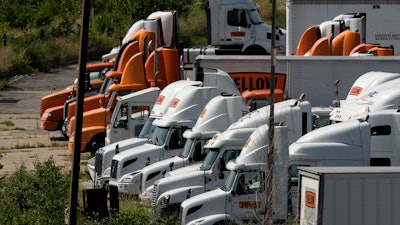 AP Photo/Charlie Riedel
NEW YORK (AP) — Troubled trucking company Yellow Corp. is shutting down and headed for a bankruptcy, the Teamsters said Monday.
An official bankruptcy filing is expected any day for Yellow, after years of financial struggles and growing debt. Its expected liquidation would mark a significant shift for the U.S. transportation industry and shippers nationwide.
"Today's news is unfortunate but not surprising. Yellow has historically proven that it could not manage itself despite billions of dollars in worker concessions and hundreds of millions in bailout funding from the federal government," Teamsters General President Sean M. O'Brien said, in an announcement saying the union had been served with legal notice for the bankruptcy filing. "This is a sad day for workers and the American freight industry."
Yellow is one of the nation's largest less-than-truckload carriers. The closure of the 99-year-old Nashville, Tennessee-based company risks a loss of 30,000 jobs. Yellow shut down operations on Sunday, according to The Journal, following the layoffs of hundreds of nonunion employees on Friday.
As of Tuesday morning, no bankruptcy filings from the company could be found on the Securities and Exchange Commission's website.
The company's collapse arrives just three years after Yellow, formerly known as YRC Worldwide Inc., received $700 million in pandemic-era loans from the federal government. But the company was in financial trouble long before that — with industry analysts pointing to poor management and strategic decisions dating back decades.
When reached by The Associated Press, Yellow did not comment directly to the bankruptcy reports, but addressed contract negotiations between the Teamsters and the company, which sued the union in June after alleging it was "unjustifiably blocking" restructuring plans needed for Yellow's survival. At the time, the Teamsters called the litigation "baseless" — with O'Brien pointing to Yellow's "decades of gross mismanagement" and accusing the company of wanting workers to "to foot the bill" amid the company's financial chaos.
"Yellow has not asked its union employees for any concessions in its efforts to approve its long-planned modernization effort... Yellow offered to pay its employees more, a lot more, but the (Teamsters) refused to negotiate for nine months," a company official said in a statement sent to The Associated Press Monday night, accusing the union of trying to "destroy" Yellow.
Reports of Yellow preparing for bankruptcy emerged last week — as the Nashville, Tennessee-based trucker saw customers leave in large numbers, per The Wall Street Journal and FreightWaves. And the company reportedly stopped freight pickups earlier in the week.
These reports arrived just days after Yellow averted a strike from the Teamsters. On July 23, a pension fund agreed to extend health benefits for workers at two Yellow Corp. operating companies, avoiding a planned walkout. The fund gave Yellow "30 days to pay its bills," notably $50 million that Yellow failed to pay the Central States Health and Welfare Fund earlier in the month.
Yellow has racked up hefty bills over the years. As of late March, Yellow had an outstanding debt of about $1.5 billion. Of that, $729.2 million was owed to the federal government.
In 2020, under the Trump administration, the Treasury Department granted the company a $700 million pandemic-era loan on national security grounds. Last month, a congressional probe concluded that the Treasury and Defense departments "made missteps" in this decision — and noted that Yellow's "precarious financial position at the time of the loan, and continued struggles, expose taxpayers to a significant risk of loss."
The Teamsters supported the $700 million loan when it was first announced. As of June 30, Yellow had paid $67 million in cash interest on the loan, which is due in 2024, the company said.
The prospect of bankruptcy and current financial chaos at Yellow "is probably two decades in the making," said Stifel research director Bruce Chan, pointing to poor management and strategic decisions dating back to the early 2000s. "At this point, after each party has bailed them out so many times, there is a limited appetite to do that anymore."
An investors note from financial service firm Stephens last week estimated that Yellow was burning daily amounts of $9 million to $10 million in recent days.
Yellow handled an average of 49,000 shipments per day in 2022 according to Satish Jindel, president of transportation and logistics firm SJ Consulting. On Friday, he estimated that number was down to between 10,000 and 15,000 daily shipments.
Former Yellow customers and shippers will face higher prices as they take their business to competitors, including FedEx or ABF Freight, experts say — noting that Yellow historically offered the cheapest price points in the industry.
Yellow's prices have historically been the cheapest compared to other carriers, Jindel said. "That's why they obviously were not making money," he added. "And while there is capacity with the other LTL carriers to handle the diversions from Yellow, it will come at a high price for (current shippers and customers) of Yellow."