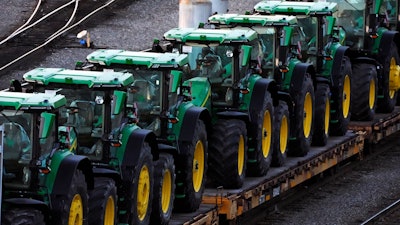 AP Photo/Gene J. Puskar, File
WASHINGTON (AP) — Wholesale prices in the United States rose 6% in January from a year earlier, decelerating for a seventh straight month. But on a month-to-month basis, prices reaccelerated in January, indicating that inflation pressures continue to underlie the U.S. economy.
The latest year-over-year wholesale inflation figure was down from 6.5% in December and from a recent peak of 11.7% in March. From December to January, though, the government's producer price index jumped 0.7%, driven up in part by a 5% surge in energy prices. That compared with a 0.2% drop from November to December, and it was nearly twice the increase that economists were expecting.
Excluding volatile food and energy prices, so-called core wholesale inflation was up 5.4% in January from a year earlier and 0.5% from December to January. Food prices, though, fell 1%, the second straight monthly drop. Egg prices, which have been driven up by a wave of avian flu, sank 12.7% from December to January but are still up more than 200% from a year ago.
In the energy sector, wholesale gasoline prices were up 6.2% from December, diesel fuel 10.9% and natural gas for homes 12.2%.
The producer price data measures inflation before it reaches consumers. It reflects prices charged by manufacturers, farmers and wholesalers, and it flows into an inflation gauge that the Federal Reserve closely tracks. The data can provide an early sign of how fast consumer inflation will rise.
"While producer prices are off their peaks, inflation is elevated and the monthly change in prices showed a move in the wrong direction last month,'' said Rubeela Farooqi, chief U.S. economist at High Frequency Economics. "These data will keep the Fed on track to raise interest rates further, to a sufficiently restrictive stance, in order to get inflation back toward" the central bank's 2% inflation target.
This week, the government reported that consumer inflation cooled for a seventh straight month compared with a year earlier. But the report also showed that inflationary pressures underlying the economy were likely to keep prices elevated well into this year. The year-over-year consumer inflation figure for January, 6.4%, remains well above the Fed's 2% annual target.
Since March of last year, the Fed has raised its benchmark interest rate eight times in hopes of slowing the economy enough to conquer high inflation. Inflation has, in fact, eased since hitting a four-decade high in mid-2022. The rate hikes have had the broader economic effect of raising the costs of mortgages and auto loans as well as credit card interest rates.
Despite higher borrowing costs, the U.S. job market has remained surprisingly strong. Employers added a sizzling 517,000 workers last month — nearly three times what forecasters had expected — and the unemployment rate fell to 3.4%, lowest since 1969.