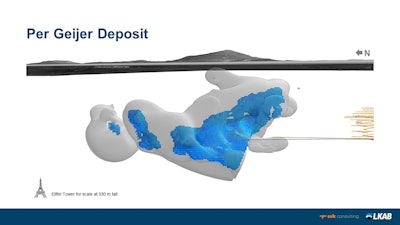 LKAB
KIRUNA, Sweden (AP) — Iron-ore miner LKAB said Thursday that it has identified "significant deposits" of rare earth elements in Arctic Sweden that are essential for the manufacture of electric vehicles and wind turbines.
The Swedish government-owned mining company, which mines iron ore at Kiruna, more than 960 kilometers (nearly 600 miles) north of Stockholm, said there are more than 1 million tons of rare earth oxides.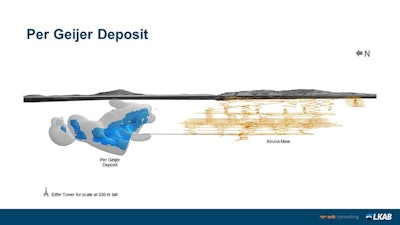 "This is the largest known deposit of rare earth elements in our part of the world, and it could become a significant building block for producing the critical raw materials that are absolutely crucial to enable the green transition," said LKAB CEO Jan Moström. "Without mines, there can be no electric vehicles."
Ebba Busch, Sweden's minister in charge of energy and business, said that "electrification, the EU's self-sufficiency and independence from Russia and China will begin in the mine."
"We need to strengthen industrial value chains in Europe and create real opportunities for the electrification of our societies. Politics must give the industry the conditions to switch to green and fossil-free production," she added.
Rare earths now reach into the lives of almost everyone on the planet, turning up in everything from hard drives and cell phones to elevators and trains. They are especially vital to the fast-growing field of green energy, feeding wind turbines and electric car engines.
Exploration will not start for years even if permits are delivered very fast.