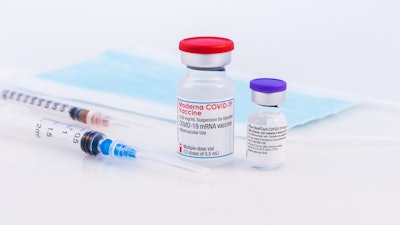 iStock
Moderna's did not meet its profit and sales expectations for the third quarter, and now, the maker of the COVID-19 vaccine says its full-year shipments of the vaccine will not meet its forecasts, according to CNN Business.
Despite Moderna's share price more than tripling thus far in 2021, the news resulted in an 18% drop in shares.
Moderna's earnings totaled $3.3 billion on revenue of $5 billion in the quarter. However, analysts predicted a $3.9 billion income on a $6.2 billion revenue. Also, the company forecasted revenue of $20 billion for the year just three months ago and now expects the figure to be between $15 billion and $18 billion.
Production and shipment problems will push deliveries to 2022. The anticipated shipment of 800 million to 1 billion doses of its vaccine has decreased to 700 million to 800 million. Low-income countries will receive priority.
Moderna executives admitted the global demand for its vaccine created growing pains in the transition from research and development to supplying a product in high demand.
Pfizer, a separate producer of the COVID-19 vaccine, announced its earnings were better than expected in the past quarter.